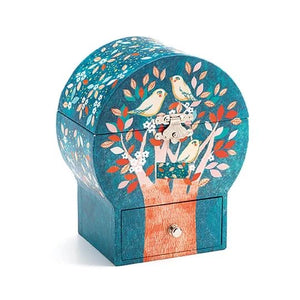 This gorgeous musical keepsake box is in the shape of a beautiful tree and has a drawer to store your child's jewelry and secrets.
Turn the crank, open the box and watch the bird figure dancing to the melody "Santa Lucia".
The inside of the box is covered with soft felt and has a mirror.
A beautiful keepsake box that will accompany your little one for years. It will also adorn a nursery beautifully, and is an ideal gift for a child's birthday or for new parents!
Dimensions: 17 x 14 x 10 cm.