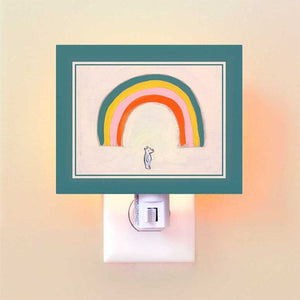 Canvas art night lights featuring comforting designs. Night lights are printed in the USA and include a 4-watt bulb. Custom personalization is offered for most night light designs.

Something as simple as a comforting light with a cheerful image eases the worry of what's under the bed, and our mini stretched canvas night light accomplishes this job beautifully. Just like our kids wall art, these little works of art allow you to re-purpose them. Once your child outgrows the "monsters", unscrew the base of the night light and place the canvas wrapped frame on a shelf. Voilà, an instant art piece!

Our night light base is mounted through the canvas-covered wood frame and swivels so it can be positioned to work with any U.S. outlet layout. A 4-watt bulb is included and an on/off switch ensures the soft light is shining only when you want it. Our night lights have passed independent laboratory safety tests and meet all CPSIA guidelines. Some of our night lights can be personalized with a child's name and all come packaged in our gorgeous signature gift boxes.