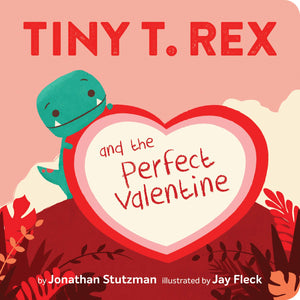 Lovable bestselling Tiny T. Rex is back from the critically acclaimed

 

Tiny T. Rex and The Impossible Hug, this time in a Valentine's Day dinosaur board book adventure!

Valentine's Day is coming, which means showing the ones you love how much they mean to you, so Tiny has decided to make the perfect Valentine for his best friend Pointy. But as Tiny discovers, making a Valentine isn't easy. It might take a few tries-until Tiny realizes the best Valentine might have been there all along.

Tiny may be a small dino in a big world, but that won't stop him from making friends, conquering his fears, and stomping his way into your heart. Author Jonathan Stutzman and illustrator Jay Fleck have created an adorable and heartwarming story that shows young readers that love and kindness are the best gift of all.